Blog Archives
I can think of nothing better than to take a look at psychiatry's "bible" itself to understand how we got to where we are. Maybe it can provide clues as to how we can get out of it!
The Diagnostic and Statistical Manual of Mental Disorders (DSM) contains diagnostic information on all recognized mental disorders (and not officially recognized mental disorders found in the appendix) and available treatments. The DSM is nicknamed the "psychiatric bible" because it contains EVERYTHING.  They are numbered from 1-5 (I, II, III, IV,V) with R or TR standing for revised.
For the most part the DSM's have grown and by grown I mean exploded in size!
DSM I (1952): 130 pages, 106 mental disorders
DSM II (1968): 134 pages, 182 mental disorders
DSM III (1980): 494 pages, 265 mental disorders
DSM III-R (1987): 567 pages, 292 mental disorders
DSM IV (1994): 886 pages, 297 mental disorders (no changes effecting page length or number of disorders were done in the 2000 revision)
DSM V (May 2012): check out http://www.dsm5.org/Pages/Default.aspx and go to Proposed Revisions find out what's being added and taken away (so far I've noted a reduction in diagnostic criteria and adding of disorders such as Binge Eating Disorder and Premenstrual Dysphoric Disorder)
(other DSM information was found at http://en.wikipedia.org/wiki/Diagnostic_and_Statistical_Manual_of_Mental_Disorders#cite_note-8 which as a laundry list of sources at the bottom of the page)
Is anyone else concerned by the massive jump seen from 1968 to 1980? Or the jump from 1987 to 1994? ALL OF THE JUMPS!!!!!!
In the end 297 human behaviours and combination of behaviours have been deemed abnormal and disordered. The reasoning has been linked to new research into mental disorders but I'm extremely skeptical (think back to my Neurodiversity post and you'll understand why).
Psychologists and others who work within the mental health community have actually organized a petition (which I have signed) stating their concerns about new DSM V that is coming out in a few months.  They are demanding that multiple sources (such as mental health workers who interact with people with mental health issues for more than 5 minutes a day) be used to create the DSM, not just psychiatrists.
Other mental health professionals are worried about:
-          The lowering of diagnostic criteria
-          The effects on vulnerable populations such as youth
-          Lack of distinction between social norms and mental disorders
-           Revisions of already existing disorder groups
For the full petition see: http://www.ipetitions.com/petition/dsm5/
As I mentioned above, the rise in new disorders is claimed to be from new and improved research but can that justification work when explaining why the DSM task force wishes to remove diagnostic criteria? I personally say no. Would doctors remove symptoms to prove cancer or diabetes? Imagine if suddenly having a runny nose didn't mean you had a cold anymore.  Symptoms are there in order to provide the most accurate diagnosis as possible. Removing criteria allows for a lot of error in diagnosis such as over diagnosing (examples of this and other diagnostic issues are in the above petition link).
Using the cold example again, if a runny nose didn't mean a cold thousands of people could possibly be diagnosed with an allergy and be treated for that. What's more irritating is you wouldn't be able to pin point what you're allergic to because it wouldn't happen as frequently as most allergies. Because a running nose, combined with other symptoms such as sneezing, coughing, aches and pains create what we know as the common cold it is not treated the same as allergies.
It already doesn't help that in the current DSM IV-TR one person could have a number of disorders because, as complex human beings, we all have "disordered" traits. I know we can't trust online quizzes but try some of those (http://psychcentral.com/quizzes/) and you'll find just how similar you are to a wide range of disorders. I could possibly have mild ADD, major depression, bipolar disorder, borderline personality disorder and narcissistic personality disorder based on quizzes I have taken. Doctors have tossed around hormones, dysthymic disorder, major depression, borderline personality disorder, bipolar disorder and post-traumatic stress disorder when trying to actually diagnose me (only two of those stuck with me).  Also in the DSM V they are adding Non Suicidal Self Injury Disorder which I would most likely be diagnosed with (I'll discuss the addition of that disorder much later).
Since we can be so many different things this is why the DSM keeps growing and this is all the more reason to not remove diagnostic criteria!
Over the summer I read a book called The Psychopath Test: A Journey through the Madness Industry by Jon Ronson. I read something that made me nervous and really further enforced my belief that all was NOT safe and sound in mental health.
While Ronson began to realize that he could label many people, including himself, as having psychopathic tendencies he sat down to talk with Robert Spitzer. Spitzer was the editor of the DSM III and responsible for the first massive explosion in new mental disorders. This is part of their conversation:
"When I asked Robert Spitzer about the possibility that he inadvertently created a world in which some ordinary behaviors were being labelled mental disorders, he fell silent. I waited for him to answer. But the silence lasted three minutes. Finally he said, "I don't know." "Do you even think about it?" I asked him. "I guess the answer is I don't really," he said. "Maybe I should. But I don't like the idea of speculating how many of the DSM III categories are describing normal human behavior." "Why don't you like speculating on that?" I asked. "Because then I'd be speculating on how much of it is a mistake," he said. There was another long silence. "Some of it may be," he said. (pg. 251, Ronson, 2011)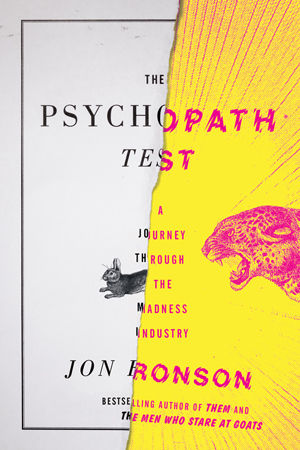 So, what do we do? We can sign that petition first of all! We can play more active roles in our diagnosing and not take the psychiatrists word on it (I actually did this. When I was diagnosed with borderline I said that I agreed but when he also said post-traumatic stress I said I disagreed and I didn't get the label). We need to be critical of the DSM and its application, especially in children and youth who get diagnosed based on what I feel is kids just being kids (example: ADD and Conduct Disorder). We need to examine ourselves and find out who we are so we know if we actually fit within a certain diagnosis or not. The number one thing to do is not take their word for it. Don't follow blindly. You are the expert of your life and who you are (regardless of whether you like yourself or not) and just because psychiatrists have a book doesn't mean they have the answers to who you are. Most likely you have a "disorder" unique to you.  I firmly believe that I have "Kristen Disorder".