Blog Archives
I got a Wreck This Journal for Christmas!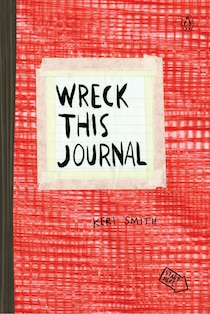 There are a few versions of this journal but that red one is the one I got. I first came across them in Chapters (Canada's largest chain bookstore) and then my cousin and Aunt bought one each for themselves. My cousin, who experiences severe anxiety, has found great relief and fun from destroying this journal.
So what is Wreck This Journal you may be asking? It's very simple. You wreck it. Each page tells you to do something different which will result in something happening to the page, pages or the entire book.
Here are some examples of what people have done to their Journals:
I haven't done much of mine because although you're supposed to wreck the Journal I really don't want too! Some of the pages I want to save for when I'm angry but the others I need to just sit down and do them. This Journal becomes more interesting the more I destroy it!
Here's pictures of what I have done so far.
I tied together a bunch of elastics my little cousin found and dragged it around the cottage. I couldn't image actually dragging it outside when I got back to Toronto! It was very amusing! I also did the Crack The Spine page but I can't show you a picture of that.
Every so often I'll update about the pages I've done! This is going to be fun!