Blog Archives
The Quiet Borderline has nominated me for the Strong Person Award. I could not adequately describe the amazing things this woman has does even if she does not know it! Her  ability to survive and push beyond whatever she is experiencing is very admirable! CHECK OUT THE QUIET BORDERLINE!!!!!
"You heard me right! You are not weak, you are strong. You are not a failure, you are a fighter! This goes out to all mentalists. And it's a gift from me (The Quiet Borderline) to you all – Please spread the love. Mental health is not something to be sneered at and it deserves much more respect. Stop the stigmatising."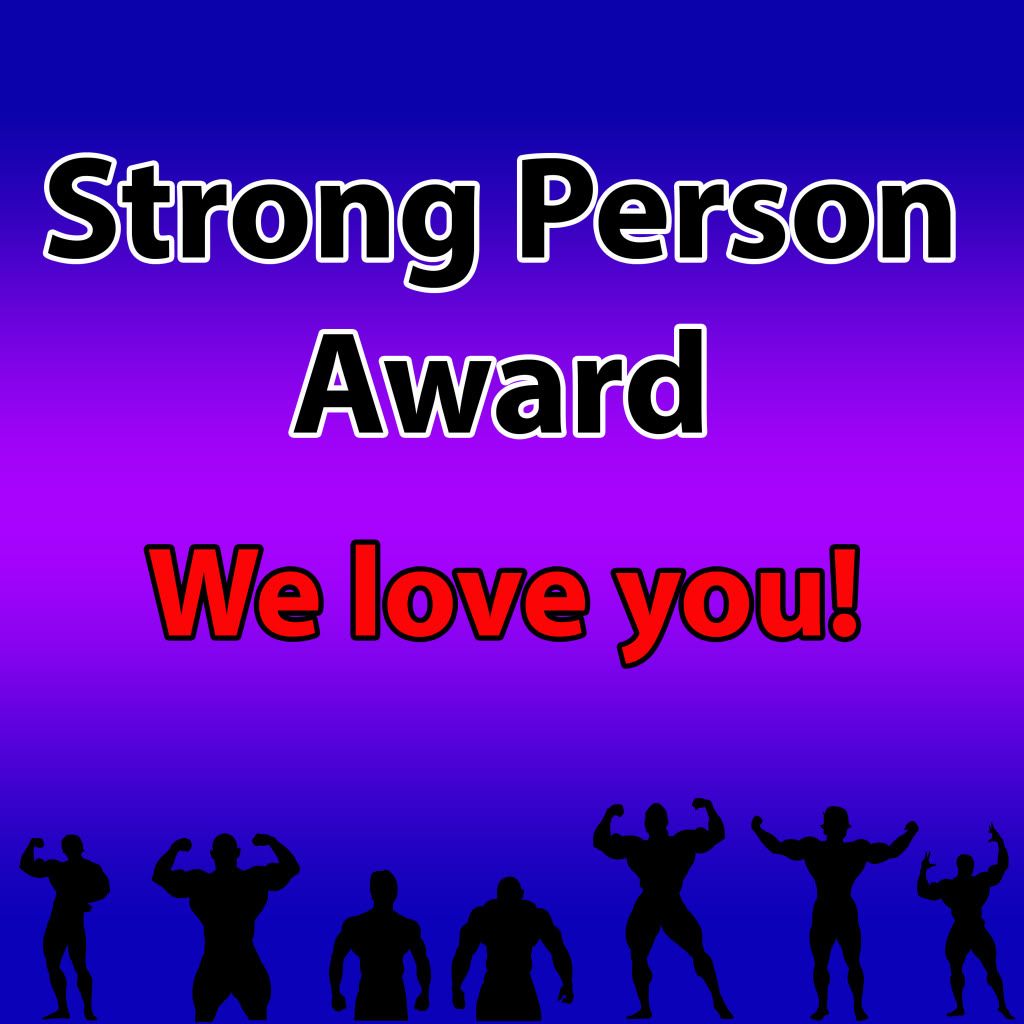 The Rules
1. Make sure to add in the above text and image to spread the love and add how little or how much you want!
2. Name your diagnoses – Stand loud and proud! You can tell us a little about them also if you'd like. How you're affected by these diagnoses and how you are fighting your way out of them.
3. Add a photo of yourself, or some abstract picture that represents you, anything you like!
4. Send this on to as many, yes, as many, people that you like. It can be five, ten, fifty.
The Diagnoses of PIM
Dysthymic Disorder: A chronic depression that was relentless! I experienced this disorder from age 13 (although I was not diagnosed until 16) to 117 years old. These were the worst years of my life and I'm glad they are over. I firmly believe that if I hadn't achieved my recovery from this depression I would be dead. Since I did recover for it I think that says something for the "chronic" part of the diagnosis.
Borderline Personality Disorder: Diagnosed at 18 years old and I probably had this disorder along with the dysthymia but no one was looking for it. I do relate being borderline with becoming a confident person. I have no problem standing up for myself, doing what I like and expressing how I feel even though it may be an aggressive mess.
Borderline Personality Traits: This is my newest diagnosis and it is one that reflects my awesome achievements in improving my mental health but still acknowledges that I have issues that can stop me in my tracks. This diagnosis simply means that I do not meet the full diagnostic criteria for borderline personality disorder anymore UNLESS I am angry. Many people think this diagnosis is bullshit but I feel that it is acknowledging who I am and I love it!
Some Other Strong People (Even if you don't appear on this list still know you are strong and awesome! And I possibly saw that you were previously nominated)
http://gypsy116.wordpress.com/
http://wereallmadinhere.wordpress.com/
http://asthependulumswings.wordpress.com/
http://brettbatten.wordpress.com/
http://strugglingwithbipolar.wordpress.com/
http://mentalhealthdiaries.wordpress.com/
http://thebipolarplace1.wordpress.com/
http://borderlinegirlliveshere.wordpress.com/
http://themirthofdespair.wordpress.com/
There are a few more but I need to get to bed!!!!