That is the title of a children's book on homelessness and schizophrenia I borrowed from the library.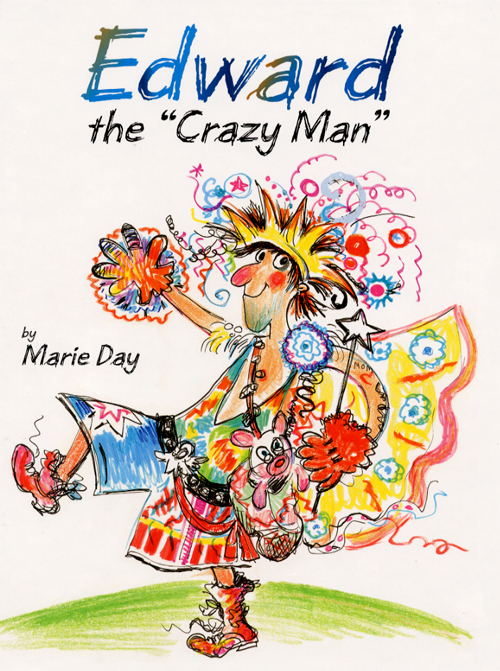 I first heard about the book from a Facebook friend who posted a picture of it as a joke to his friend who is named Edward. I knew I had to read this book and then share it here.
Edward the "Crazy Man" by Marie Day, on Amazon.ca, has 1 review of the book and it was given 2.5 stars. No one on Goodreads had rated the book so I was the first and gave it 2/5 stars.  If you go with the typical mainstream view of mental illness then this book is great but when you hold a critical lens up to it the story really falls apart. I will go over my 4 major concerns.
1. Edward has what?
If you are writing a book about a specific diagnosis I think that information is important. At no point in the book does the author mentions that Edward has schizophrenia (this information is written in the back of the book in the author's note to the reader). All the author does to "describe" schizophrenia is having Edward design and wear costumes he has made from found materials (which is cool and creative) and say that Edward "had a serious illness that affects the brain" (pg. 18), "Because of his illness Edward kept hearing voices in his head…" (pg. 19) and "All Edward did was decorate his hat with flowers made from scraps while he talk to himself in a loud voice." (pg. 20) If you have no idea what schizophrenia is you wouldn't know it until you reached the last page of the book and since it is actually not a part of the story are parents even going to read it to their children?  The author also mentions that even the best medications couldn't make Edward "normal". I wouldn't look forward explaining that whole part to my children.
2. The Normal Saviour
Edward was doing very poorly until a grown up Charlie (the other main character) comes and gives him a job as a costume designer. To me, this instills the idea that people with mental health issues need to be saved and only people without mental health issues can do so. I understand that everyone needs help and it is great to know that Charlie never let Edward's experience scare him, but it still is sending the wrong message. Without Charlie, Edward would have and be nothing except "Crazy Man". Also, the story is told from the perspective of Charlie, who is "normal", and I know I would love to hear Edward's side of the story since we are supposed to be learning about his experience. But, "normals" know best I guess…
3. Mental Illness as a Spectacle
Edward is something to watch. Now, I don't think anyone could look away from someone dressed in a costume like what Edward wears but he is looked upon and judged by everyone. I am also unsettled by the idea that individuals with schizophrenia walk around and make a spectacle of themselves. Of course, if this is who they are then all the power to them.  I just feel like the author chose the spectacle route because it was the only way to "see" schizophrenia, but it just brings up other issues. I guess it's more fun for the children? "Oh look, mental illness involves costumes!" ??????
4. The Constant Need to Prove Worth
Edward, from the get-go, has to prove himself. Edward has to show that "Crazy Man" is not a bad man. He saves a young Charlie from being hit by a car which is basically the only reason adult Charlie helps him later, "That day I was almost hit by a car and you saved my life…Now I can finally thank you." (pg. 18) and before his co-workers will stop calling him a "weirdo" and hoping Charlie fires him, Edward saves the day but making an elaborate costume for a rockstar and lands Charlie's costume design company the rockstar as a client. What if Edward hadn't of pulled that off? His co-workers would probably have continued to judge him and ignore and maybe Charlie would have even fired Edward because the discrimination was upsetting the workplace.
Edward the "Crazy" Man" is a book with good intentions. The author does not have lived experience but possibly saw someone she cared about become sick with a mental illness (although details are not discussed). I would love for more children's books to talk about mental health issues, but it needs to be done with care and knowledge of the community.